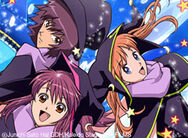 The Triple Illusion is a maneuver created by Mia Guillem for the Cinderella performance. While Layla strongly suggested that Mia do the maneuver with Charlotte and Julie, Mia soon turned down her role in the show since she really wanted to perform the maneuver with her friends Sora Naegino and Anna Heart. This maneuver is only performed by this trio during the first season.
Maneuver Details
Edit
Sora, Anna, and Mia all leap around together on trampolines surrounding one large platform. When they all pass together, they open up a strip of orange ribbon. When they leap by again, they grab each other's ribbon and leap upward into the middle of the platform. The shape takes the form of a giant pumpkin and it explodes while Sora, Anna, Mia, and Layla are seen together inside.
This maneuver was the first of Mia's found abilities for writing scripts and designing maneuvers.
This maneuver was only done for the Cinderella performance.